[caption id="" align="alignleft" width="340" caption="Manny Pacquiao sports a "Victory 55" T despite decision loss"]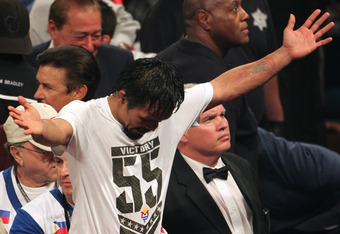 [/caption]Manny Pacquiao out-powered, out-landed and out-boxed Timothy Bradley last night, and everyone seems to agree except two Nevada state judges who gifted the challenger a controversial, galling split decision victory. How bad was the robbery? Let's take a look at some of the next-day reactions and rubbernecking. SB Nation's Luke Thomas calls the outcome one of the worst decisions he's ever seen, irrespective of combat sports:
It would be charitable to describe this decision as indefensible.
Stiff Jab scribe Gautham Nagesh
has a theory about the display of bad judging:
The only explanation for the scorecards from judges Duane Ford and CJ Ross in favor Bradley is that they favored his constant aggression, which mostly took the form of jabs, flurries, and forward movement. This is clear evidence of the folly in using the amateur system to breed judges, who will then bring those same tendencies to the pro ranks.
Many others like
Bleacher Report's Rich Bergeron
are more conspiracy-minded, saying the fight smelled like a fix and walked like a fix:
A rematch for both Arum and Bradley means another crack at making a ton of money that might not be made if Pacquiao came away the clear victor on the scorecards . . . Bad decisions come and go in boxing, but usually it's a case of so-called "hometown cooking." This time around, it smells a little more like Top Rank cooking, and the menu sucks.
ESPN analyst and boxing trainer Teddy Atlas seemed to agree and didn't hold any punches,
aiming squarely at the Nevada commission
:
Unfortunately, the scorers of fights are incompetent. Sometimes they're more than incompetent. Sometimes they're corrupt. [Boxing] doesn't have a national commission like other sports do. [It] doesn't have a police body, like other sports have, and therefore you get this kind of situation.
What do you think? Was there any way you could see the decision going to Bradley? With the loss, Pacquiao's record suffers its first dent in seven years. Bradley continues his run of 30 fights undefeated (one no contest). The two are slated to meet again in November for a rematch.